At TNT Marine Upholstery we promise to serve our clients with respect and 100% commitment to the job at hand. Give us a call if you have any questions.
Interior Services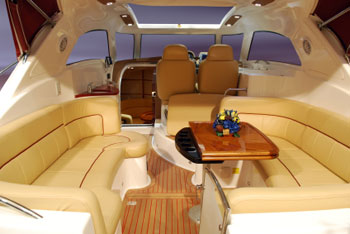 Our specialty is interior boat restoration; covering and re-covering all areas - bunks, window & hatch coverings, settees, salons, staterooms, galleys & captains chairs. Anything that needs upholstery - we can do it. We use only quality custom marine upholsteries, marine grade fabrics and vinyls. New foam replacement is also of the highest grade marine quality.
Exterior Services
Our experience with exterior boat cushions includes custom cushions for all seating areas.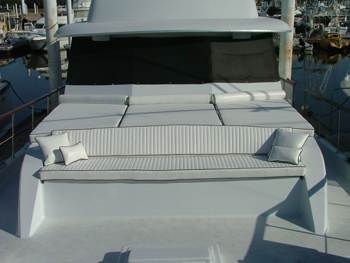 Need Deck Cushions? We can do it!
Outdoor Patio Services
Our services also include patio seat cushions, one piece chaise lounge cushions, and pool side cushions. All of our products are made to withstand nature's elements whether on land or at sea. Visit our other web site www.customcushionsetc.com for information on our residential custom cushions for home and pool side.